WHAT IS BOUDOIR PHOTOGRAPHY
Boudoir photography is a genre of photo that's all about empowering women through artistic & beautiful photos of their physique and femininity regardless of shape, size or age. There are no rules as to how intimate one wants to be in front of the camera. It's entirely based on the individual's comfort level.
Over the years, I have photographed a diverse group of women from various backgrounds and professions. I know what beauty looks like and I see it in everyone I photograph. A boudoir photography session by me is done professionally with great care to ensure that we create the best possible results. It is my job to help you feel safe and at ease regardless of how shy you might be. It will be fully guided from start to end guiding the best out of you, discovering your best angles which you don't typically get to see through a mirror.
enter full gallery (only if you are 18 & above)
WHO IS THIS FOR
You will only be this young once & You Are Enough.
' Vulnerability is the precise measurement of courage. ' - Dr. Brené Brown.
It's for you, you don't need validation. Through a boudoir photography session, you may be celebrating a physical milestone you've just achieved, going to fight a life changing illness like breast cancer, want to create a special gift for your future-self or even to celebrate being free from a bad relationship. You may be struggling with the new found role in motherhood and along the way of always serving others, you've forgotten who you were before all this madness began.
Some women want to regain that strong and confident vibe they have hidden all this while on the inside. It's like a very personal diary but with a more accurate narrative of how you really look. Through a mirror, you have a limited perspective about yourself and often in a self-conscious and critical way no thanks to the yardstick put out by other people who means very little in your life. In the process, you will confront vulnerabilities but you will come out feeling more confident about yourself and your body.
Each individual is unique and same goes to your personal motivations. I like to help in exploring this so we will create photographs finding the real you and what you stand for.
WHY I DO IT
Boudoir photography is a genre that fascinates me because of the vast creative space it provides in each shoot and the meaning it carries. I like how the process of the shoots expand my artistic vocabulary, allows me to grow as a better photographer and learning a little more about women.
The first boudoir photography series I create was for a friend in 2008. Over the years, I have had the privilege and trust to photographing many women and it has been a very fulfilling journey especially when I receive very good feedback on my work and how the photos help women feel empowered.
Through many conversations with females around this topic and joining international boudoir photography communities, I learnt so much more and got interested to do even better. With the support from my wife, I'm eager to explore where this journey as a boudoir photographer takes me. I am a member of the Association of International Boudoir Photographers.
Milan is an exceptionally talented photographer. From the planning stage to the execution, the results are absolutely breathtaking. Milan was with me every step of the way and even got to know me before the shoot, so that he can translate my personality through the photos.
It was my first time doing a boudoir shoot so understandably, this new experience was quite nerve wracking for me. However, Milan went out of his way to make me feel comfortable through his friendliness and thoughtfulness, and he was completely professional the whole time.
I also loved that he shined a new light on the style of boudoir photography by describing it as 'remembering yourself and your body in this moment in time'. The amazing photos certainly translate that! I highly recommend Milan as a photographer and you will not be disappointed!
I can say Milan is my favorite photographer on the island. I already did a couple of shoots with him and no matter for which purpose, either with family, portraits or yoga - all turned out just ravishing.
The way I was feeling during the session was just the complete opposite of what I expected. Instead of awkwardness there was female empowerment. I felt strong and confident in my own skin. Milan was very professional. He made me feel safe so I was able to open up. To shine. To let my vulnerability speak for itself. And to see my body in a different angle and accept the parts I wasn't so confident about.
It was truly a unique experience which I recommend to every woman out there. We all have this beauty inside us. Sometimes it just needs a person to shed light on it.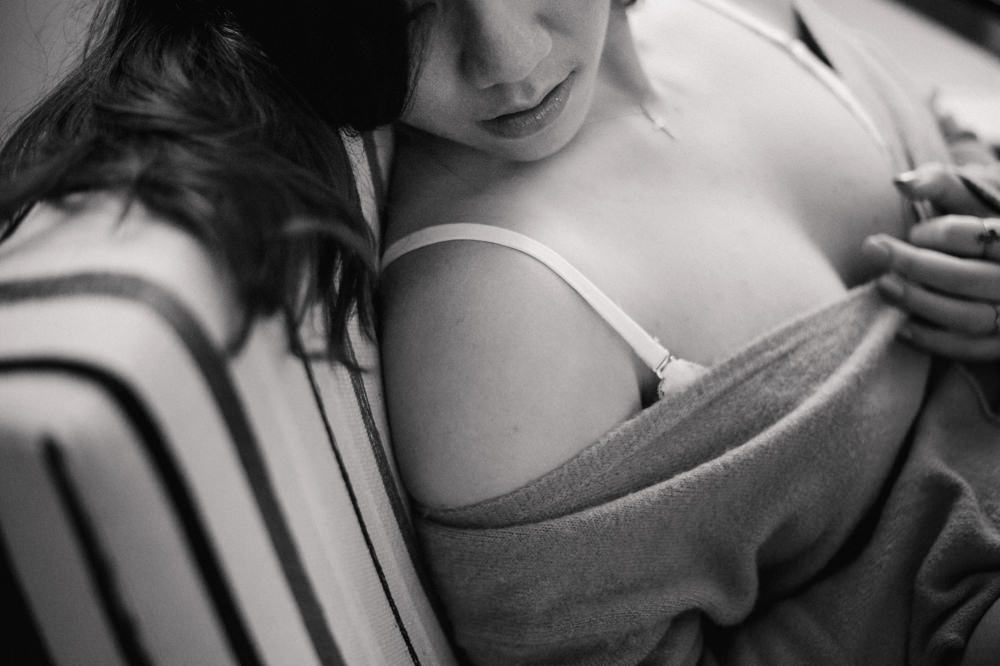 I really like the photos! I even showed my album to some of my close friends as well and their responses were positive.
Honestly, I have always been on the chubbier side for most of my life, so I don't have the highest body confidence or in the way I look – and to be completely honest, sometimes my self-esteem could even be quite low. There was a time in my life when I hated taking pictures and my signature pose for pictures was with a hand covering my face because I didn't want my picture being taken (that was my FB profile picture for the longest time as well). So I was actually pretty worried about the shoot initially (being the first time I was having boudoir photos taken of me) – I was worried about how the pictures would turn out, if I would look fat and horrible in them, and worst of all that I may end up wasting your time as well. When I first saw the album, I was pleasantly surprised (and relieved) that the pictures turned out a lot better than what I had imagined! 😊
Like most people, I would have days where I would feel more confident and days when I do not. But when the album first came out and whenever I look back at the pictures or think about them, I think its safe to say that in those moments, I feel more confident about my body.
I didn't know what to expect initially and was unsure if such a photoshoot would suit me (a lot of my friends were surprised when they heard about it), but looking back, I think I really enjoyed the whole experience. From shopping and choosing the right clothes to wear for the photoshoot together with my friend to the actual photoshoot. It was fun to have the photoshoot together with a friend. Also, it probably helped that I have heard a lot about you by that time and trusted you. You were also very patient with me and would listen to what I have to say to match my pace or what I had in mind (which I know can be more on the conservative side as far as boudoir photoshoots go lols), so that really helped make the experience very pleasant.
It was the best present for myself when I turned 32!
I was nervous on the shooting day especially facing a male photographer, however Milan has an amazing knock of relaxing me straight away. And I barely noticed the time passing. I loved the session and the photos and would recommend Milan's boudoir shoot to anyone.
Whenever I see these beautiful photos, it will always remind me that I was a beautiful and confident woman. Thank you Milan!
Love yourself now, for what it requires is just a decision.
Book a boudoir experience for yourself here.